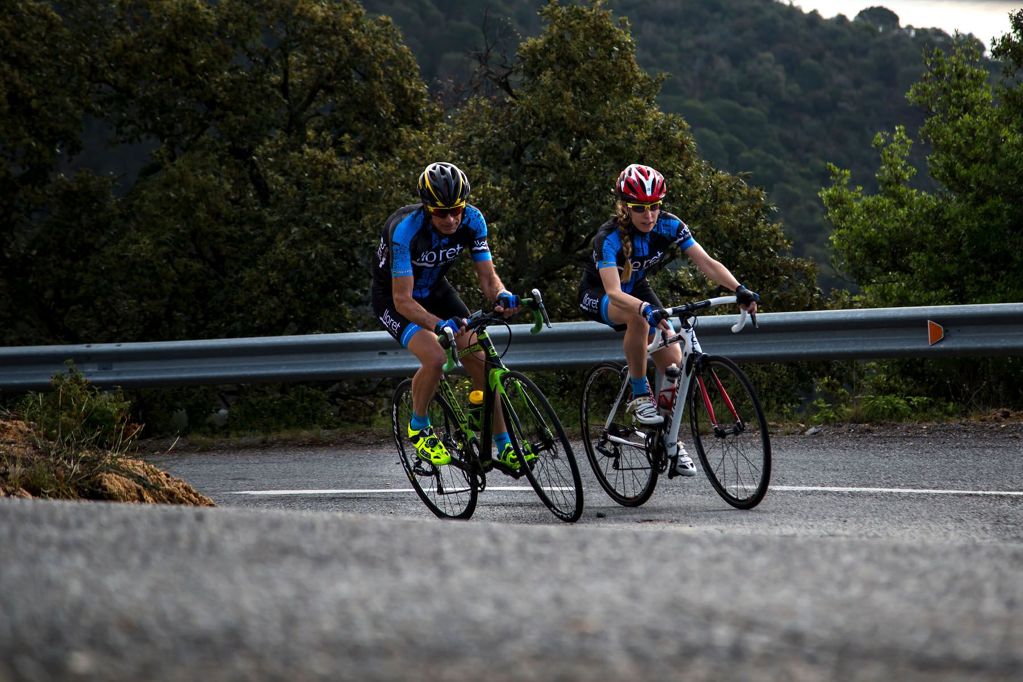 Lloret de Mar - Santa Coloma – Sant Hilari Sacalm – Arbúcies - Lloret de Mar
Lloret de Mar - Santa Coloma – Sant Hilari Sacalm – Arbúcies - Lloret de Mar
---
Distance: 95 km
Elevation gain: 840 m
Max. Elevation: 800 m
---
Water points
Vidreres
Sils
Riudarenes
Santa Coloma de Farners
Sant Hilari Sacalm
Arbúcies
Hostalric
Blanes
---
There are two roads along which to climb the 800 m of Sant Hilari Sacalm and they're both fantastic for cycling. This route crowns the Alt de Sant Hilari Pass along a quiet, winding road, giving you a chance to enjoy the landscapes of the Montseny Natural Park from the Guilleries Massif, where the green Mediterranean woodland contrasts with the rocky cliffs. Not to be missed!
MOUNTAIN PASSES

CATEGORY

DISTANCE

ELEV. CHANGE

AV.

GRADE %

MAX. GRADE %

Alt de Sant Hilari per Santa Coloma de F.

2

20,7KM

12,86MI

676M

2217,85FT

3,3%

9%
---
SECTIONS WITH TRAFFIC DENSITY / ROAD SURFACE DEFECTS

HIGH DENSITY

MEDIUM DENSITY

LOW DENSITY

Lloret north exit

  
 

Fast road with wide hard shoulder

  

Vidreres - Santa Coloma

  
 

Fast road with wide hard shoulder

  

Santa Coloma - S.Hilari

  
  

Secondary road

Arbúcies - Tordera

  
 

Fast road with wide hard shoulder

  

Blanes - Lloret

 

Caution! Wide hard shoulder but dense traffic

  
  
Departing from the Central Tourist Office of Lloret de Mar located in Carrer de les Alegries 3, we follow the north exit from the city along the GI-660 road in the direction of Vidreres.
This is a section of road with considerably heavy traffic that should be avoided at rush hour, from 8 am to 9.30 am and from 5 pm to 7 pm.
We pass through Vidreres and continue along the same road, which will take us to Santa Coloma de Farners. This section of the route is ideal for building up a good speed.
At Santa Coloma, we take the GI-551 road in the direction of Sant Hilari Sacalm. This is a sensational secondary road in the Guilleries Massif with hardly any traffic, ideal for cyclists. The road climbs gently but constantly for 20 km, offering us a very enjoyable ride as far as Sant Hilari Sacalm, the high point of the route, situated 800 metres above sea level.
After crossing this pretty town with wonderful views of Les Agudes and Turó de l'Home, two impressive peaks, we begin a very steep descent on the GI-550, which takes us down to Arbúcies. We cross the town and continue to descend along the GI-552 as far as Hostalric.
In Hostalric we take the C-251 road in an eastward direction, heading for the link to the GI-512 road, which will take us through Tordera and on to Blanes.
From here, we have an enjoyable ride on the GI-682 road that leads all the way back to Lloret de Mar, the start and end point of the route.
Extension 1
From Santa Coloma de Farners, we can head towards Vilobí d'Onyar along the GI-533 road as far as Cassà de la Selva and Llagostera. At this point we have two options:
Return through the Alt de Sant Grau Pass along the GIV-6644 road or
Return along the C-253 in the direction of Tossa.
In both cases the route is shortened by about 30 km.
---
Points of interest
Les Guilleries: a Natural Protected Area of more than 8,000 ha with a landscape dominated by Central European and Mediterranean woodland, along with unique bare rock cliffs.
Sant Hilari Sacalm: the most important characteristic of this mountain town are its natural springs, of which there are more than a hundred, some of which have thermal and mineral-medicinal properties.
Arbúcies: the streets of this town at the foot of the Montseny Massif are filled with flower carpets and floral art at the end of May or in early June when it celebrates the Enramades (decorative garlands) festival, declared a traditional festival of national interest.
---